| TxB Insights | September 2022 |
| --- | --- |
The third quarter of 2022 marked TxB's expansion into the European Union (EU) - enabling clients with treasury needs in the region to benefit from smarter treasury capabilities using TxB tools.

The extension of essential treasury offerings to the EU shows the numerous ways clients can use TxB's solutions to streamline incoming and outbound payments. The benefits of this streamlining span many industries - from real estate companies using Goldman Sachs Virtual Integrated Accounts (VIA)™ to automatically link incoming payments to specific leases, to an auto manufacturer making secure payouts to a supplier.

Read below to learn more about the latest insights and innovations in this space.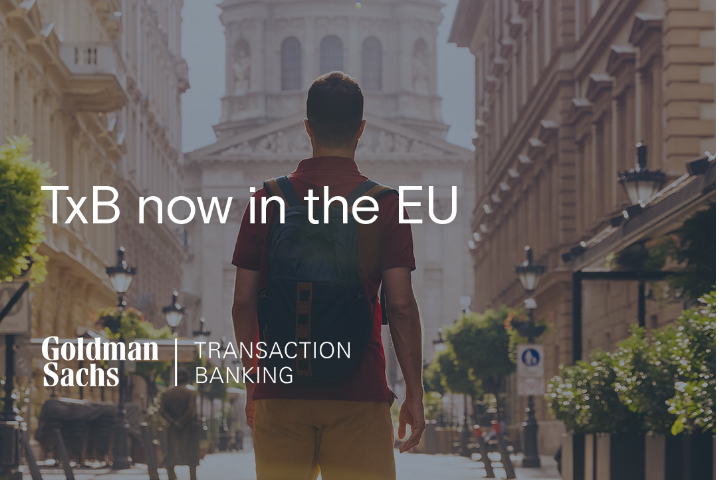 TxB's recently announced expansion into the EU further enables us to serve clients across Europe. With TxB's new location in Frankfurt, and plans for Amsterdam, clients will be able to:


Open deposit accounts in these new locations
Make payments into over 160 countries in more than 120 currencies
Gain visibility across all accounts, payments, and liquidity positions from one single global platform
Benefit from insightful real-time reporting


Accelerating Interest Rates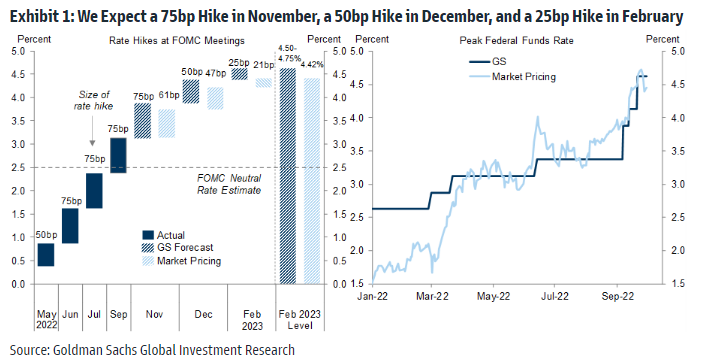 The Federal Reserve responded to hotter than expected inflation data by hiking the federal funds rate by 75bps at their September 21 meeting. The key takeaway from the release, however, was a more aggressive rate hiking path than the market anticipated. The FOMC's projections included another 75bps hike in November, 50bps in December, and 25bps in February – which would bring the federal funds rate peak to 4.50-4.75% early next year. These rate increases should further enhance yields on short term investments – including demand deposit accounts, term deposits, and money market funds.
Read more about the latest projections for future rate hikes and how the pace of growth, hiring, and inflation will impact the path of the federal funds rate in 2023 – as well as analysis on how the Fed's calculus might change in the event of a recession.
Modern Treasury Partnership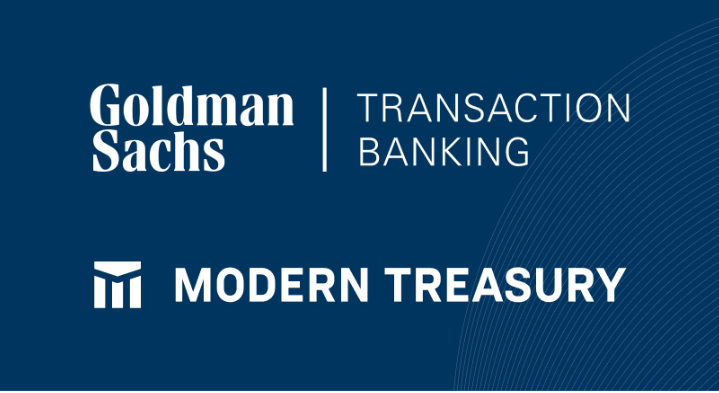 We're pleased to announce that Modern Treasury, a provider of global money movement software, has partnered with TxB to enable our mutual customers to seamlessly embed and scale domestic and international payments into their software. In addition, this partnership will enable mutual clients to open virtual accounts, view real-time payment statuses, make domestic and international payments, and manage incoming payment receipts, among other banking services. Learn more about the partnership.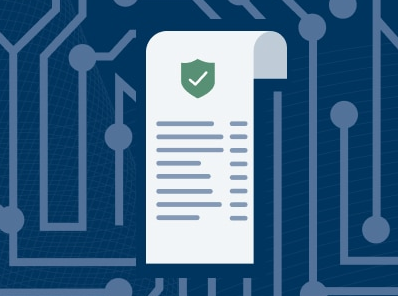 Future-Proofing Platform Clients' Treasury Operations
TxB has helped numerous platform clients future-proof their treasury operations. This includes helping them strengthen money movement capabilities, expand their footprint internationally, and execute data-rich and cost-effective payments. Read this Treasury & Risk article to learn how TxB helped Taulia, Coupang, and Wise, strengthen and grow their businesses, and why we're well-equipped to leverage our innovative products and solutions to help other clients do the same.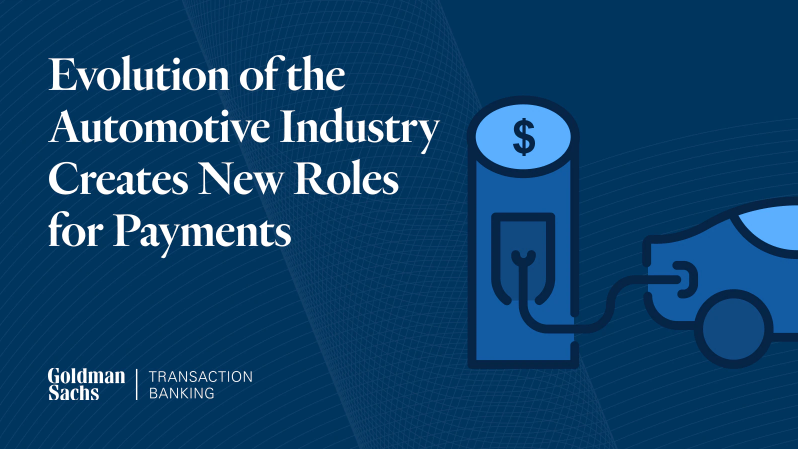 TxB Supports Digital Evolution for Autos Clients
Automotive and mobility companies are increasingly evolving into digital entities, and that change has resulted in new roles for payments – including with regards to customer payments, secure payouts, and invoicing and reconciliation. This article explains how TxB's provision of up-to-date banking services and seamless payments technology can help our industry clients' customers simplify numerous processes, such as vehicle charging collections and car reservations.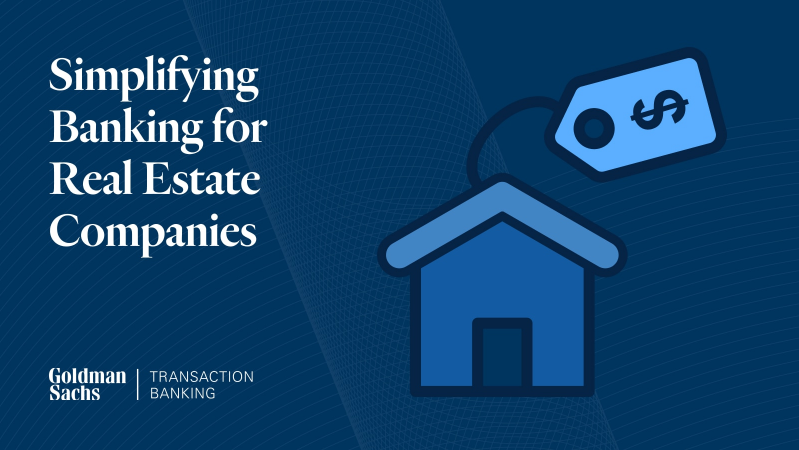 Simplifying Banking for Real Estate Companies
Real estate companies often endure complex banking processes that arise due to their different properties, payment methods, currencies, and payees. This article explains how utilizing products offered by TxB – such as Goldman Sachs Virtual Integrated Accounts (VIA)™ to streamline and organize payments and deposits – can help real estate companies simplify these processes.


We hope to see you at the following upcoming events and discuss how we can continue helping your company fulfill a wide variety of treasury and banking needs:
Las Vegas, NV (October 23-26) - Booth MR2506


Client Event: Tuesday, October 25 from 5-7p at TAO inside the Venetian
Philadelphia, PA (October 23-26) - Booth 735


Client Event: Monday, October 24 from 6:15 – 8:15p at the Ritz-Carlton Philadelphia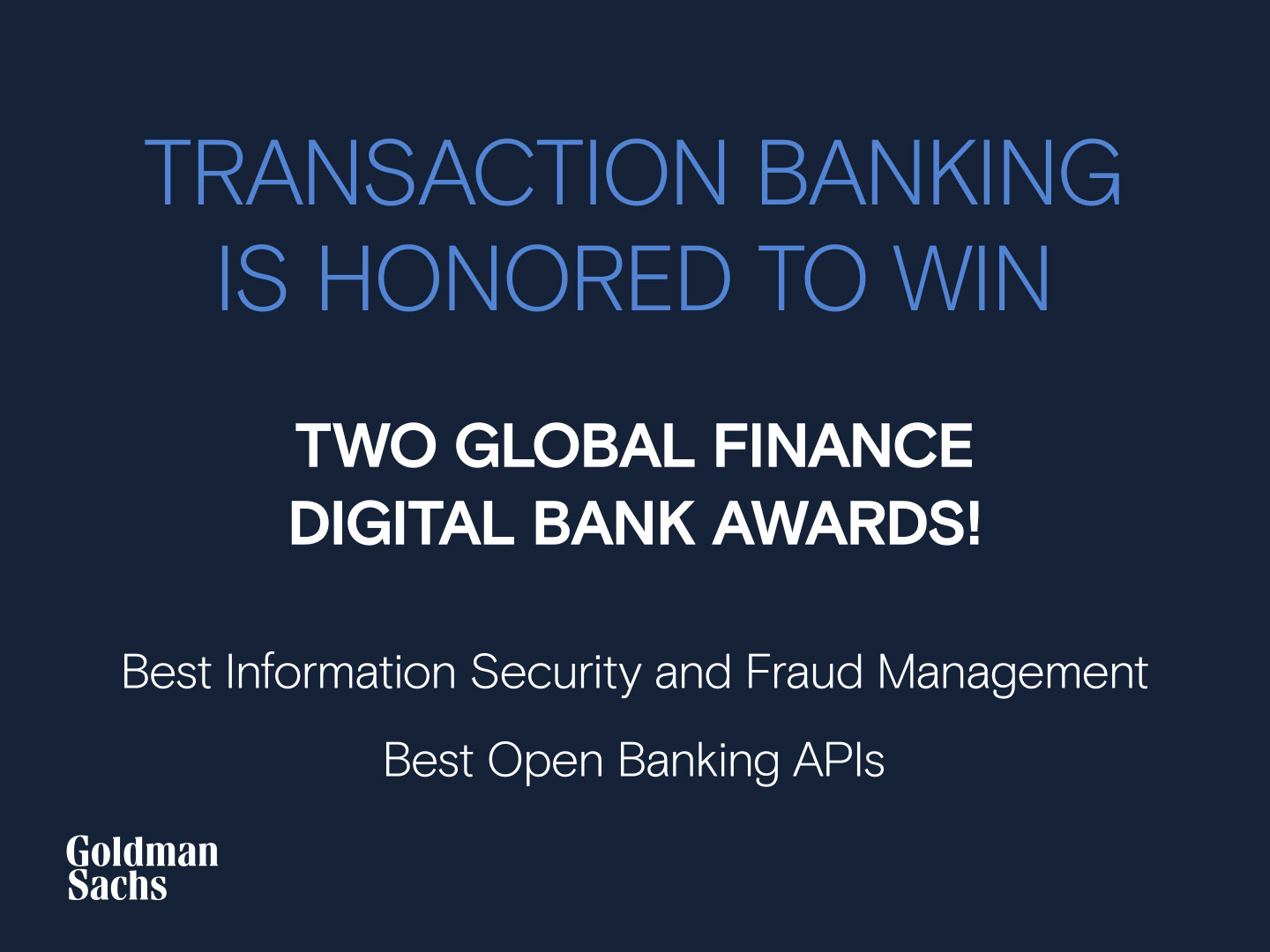 TxB Wins Global Finance Digital Bank Awards
TxB won two Digital Bank Awards from Global Finance Magazine (GFM) in the categories of Best Information Security & Fraud Management (global) and Best Open Banking APIs (North America). These awards underscore TxB's commitment to delivering safe, secure, and innovative solutions to clients across geographies and industries. Read this GFM interview with TxB's Global Head of Product and Sales Eduardo Vergara to learn how these solutions can strengthen and streamline transaction banking processes and fulfill clients' treasury needs.

Transaction Banking services are offered by Goldman Sachs Bank USA ("GS Bank") and its affiliates. GS Bank is a New York State chartered bank, a member of the Federal Reserve System and a Member FDIC. This document is being sent to you for your information only as a Transaction Banking client of Goldman Sachs and should not be forwarded outside of your organization. This document and is not a product of Goldman Sachs Global Investment Research. This document should not be used as a basis for trading in the securities or loans of the companies named herein or for any other investment decision. This document does not constitute an offer to sell the securities or loans of the companies named herein or a solicitation of proxies or votes and is not, and should not be construed as, advice of any kind.

Your Personal Data: We may collect and process information about you that may be subject to data protection laws. For more information about how we use and disclose your personal data, how we protect your information, our legal basis to use your information, your rights and who you can contact, please refer to our privacy policy here.
Unsubscribe

|

Update your profile

|

View This Email Online

|

Visit Goldman Sachs



© 2022 Goldman Sachs

200 West Street
New York, NY 10282